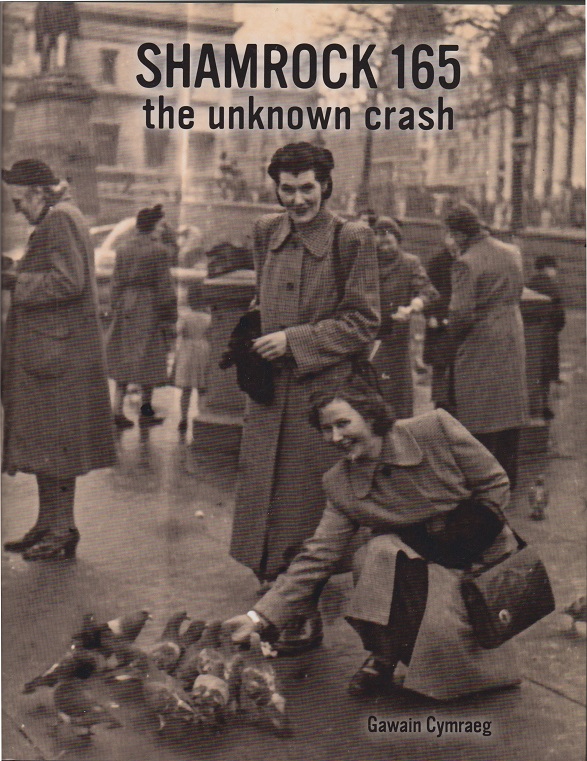 Volume I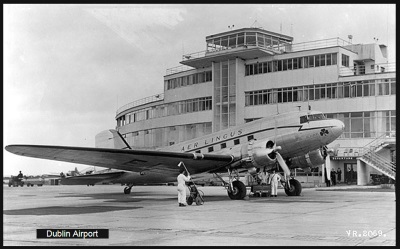 Douglas DC-3, Dublin Airport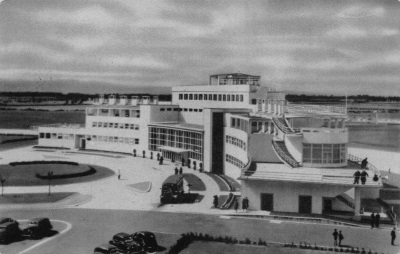 Dublin Airport
On a miserable winter's night, Thursday, the 10th January 1952, Ireland suffered her first ever national air disaster. The Saint Kevin along with a sister-ship became embroiled in 'the perfect storm' whilst travelling the valleys & hills of North Wales. Aer Lingus was then in her 16th year of operations and had only recently been declared the world's safest airline.
The story of the loss of the Saint Kevin has never been told before. Now two-thirds-of-a-century later, 'Shamrock 165' looks back at the events of that evening. What brought these persons to that specific point in the continuum of time and space. What were the true causal factors that predicated the disaster - a systematic chain of unlucky events that were to prove to be unpropitious for the then-newest airship in the National Airline's fleet. 'Shamrock 165', the first in a series from 'The Saint Kevin Project', explores what really unfolded on that horrific night in the skies above the majestic Snowdonia National Park.
Over the past seven-and-a-half-years of pretty much round-the-clock in-depth research, the author has conducted approx. 10,000 interviews and sourced in excess of 12,000 bona-fide legal documents, images, letters, etc. - pertinent to the day-to-day running of the airline, to the St. Kevin itself and in particular lives tragically lost in this air disaster. Volume 1 of the story is generously interspersed with an abundance of genuine photographs that were acquired over the past number of years.
'Shamrock 165 - the unknown crash' is limited to 1,000 hardback copies and is housed in a dust cover (170 gsm, gloss) and features 384pp (130 gsm, silk matte). The physical dimensions are 270mm x 210 mm.
Unit Cost
The books are priced at EU €40 (UK £35 & US $45)
:: ALL SHIPPING ORDERS VIA :
LEITRIM GENEALOGY CENTRE
Main Street, Ballinamore, Co. Leitrim, Ireland
T: (071) 9644 012 (within Ireland)
T: +353 71 9644 012 (International)
E: info(at)leitrimroots.com
Ask for Patricia. Credit card accepted or request a Paypal invoice. When paid, book will ship. Please contact them regarding shipping rates (an international 'book' rate is used).
COUNTY SLIGO
Basecamp, Queen Maeve's Grave Car Park
Knocknarea, Primrose Grange, Co. Sligo
(Note: Winter hours are only open on Sundays & Bank Holiday Mondays)
Caheny's Bar
Mail Coach Rd, Sligo Town
T: (071) 916 1455
Liber Bookshop
35 O'Connell St, Sligo Town
T: (071) 914 2219
W: http://liber.ie/
COUNTY LEITRIM
McKeons Bar & Guesthouse
1 Main St, Keshcarrigan, Co. Leitrim, N41 N6C3
M: (089) 702 9959
Leitrim Genealogy Centre
Main St, Ballinamore, Co. Leitrim
T: (071) 964 4012
COUNTY LONGFORD
Joe O'Brien's Newsagents
Main St., Lanesborough
T: (043) 332 1107
CORK CITY
Vibes & Scribes
21 Lavitt's Quay
T: (021) 427 9535
COUNTY CORK
Cathal O'Donovan
Skibbereen Bookshop
35, Main Street, Skibbereen, Co. Cork
T: (028) 21279
They numbered twenty-three. They were sons, daughters, a mother, fathers, husbands, wives, a lover, brothers, sisters, a grandson, granddaughters, a great-granddaughter, nephews, nieces, uncles, aunts, cousins, in-laws, godchildren, godparents, friends and acquaintances.





LATEST NEWS ITEMS

Evelyn Rooney and Peggy Lennon spoke to Joe Finnegan in studio to tell the story of their relative Evelyn Belton who died in the first ever fatal Aer Lingus crash that occurred in Wales in 1952. Evelyn Rooney is a niece of Evelyn Belton (and her namesake) while Peggy Lennon is a cousin and childhood friend of the late Evelyn Belton.

Certificate of Safety for Flight